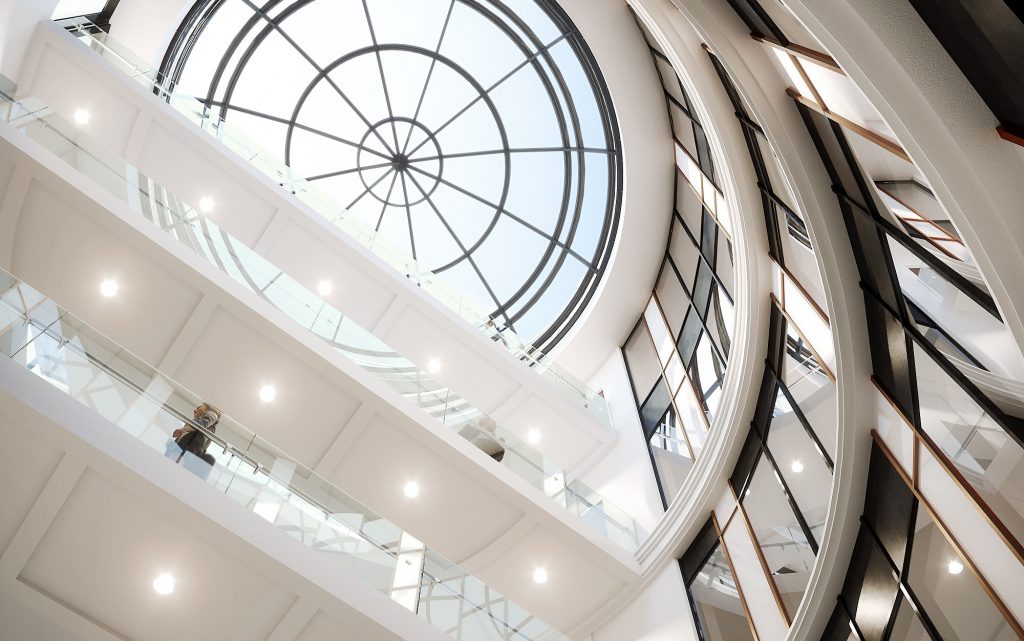 RUSHBOND has appointed Sir Robert McAlpine as the sole contractor for The Majestic, as construction work starts on this new speculative flagship office development for the City of Leeds.
Sir Robert McAlpine, one of the country's leading building and civic engineering companies, has started an 18-month construction programme on the £40 million Grade A super-prime office scheme, right in the heart of the City Centre.
The iconic City Square landmark is being transformed by the award-winning Leeds-based property company Rushbond, as the future of this historic building is re-defined to provide exemplary new office space, right opposite the North's busiest railway station.
The 66,000 sq ft of contemporary workspace will be housed behind the original external envelope of the building, which first opened as a 2,400-seat cinema back in 1922. An elegant, new three-storey atrium will create a grand majestic entrance to the building from City Square.
Situated over seven levels, The Majestic will also feature stunning terraces on the fourth and fifth floors, overlooking City Square, alongside a new domed circulatory space, re-creating the historic Palm Court, and a flexible 'Stage' space within the lower ground floor, as part of a comprehensive scheme to set the future of this landmark building.
Mark Finch, Real Estate Director at Rushbond, said: "We are delighted to make the dual announcement that Sir Robert McAlpine has been selected as the contractor and that construction work is now underway.
"When complete in 2019, The Majestic will provide a stage for modern, forward-thinking, imaginative and ambitious businesses who are seeking a distinctive landmark presence at the heart of the Leeds City Region.
"Located within the largest city region economy outside London, The Majestic not only respects the heritage of this great City but represents the future of a vibrant and growing City economy."
Mark Gibson, Sir Robert McAlpine's Managing Director for Scotland & Northern Region, said: "We are delighted to be involved in this project that will see this iconic building playing a new role in the City of Leeds and its burgeoning economy.
"Now that we have started work, we are looking forward to turning Rushbond's exciting vision into a reality, to seeing The Majestic standing tall and proud as a true Leeds landmark."
Councillor Judith Blake, Leader of Leeds City Council said: "I'm delighted to see that plans for this iconic and much-loved building are moving forward. The transformation of the site will provide a great opportunity for businesses to occupy a prime location in Leeds and contribute to our growing economy."
The exceptional quality and design of The Majestic, designed by DLA Architecture, blends contemporary architecture while combining the essence of its historical significance and place.
The Majestic provides the opportunity for both a single tenant to occupy the whole building or multiple occupation, with floor plates ranging from 6,100 sq ft to 11,094 sq ft.
Richard Thornton, JLL's Director of Office Agency and leasing agent for The Majestic, said: "The Majestic provides a rare opportunity for occupiers to acquire space in what is undoubtedly a super-prime location.
"It will provide exceptional office accommodation for a whole range of occupiers looking for space from 6,100 sq ft to the whole building at 66,000sq ft.
"With practical completion scheduled in June 2019, timing could not be better as we project that the current supply of brand new Grade A City office space will all be let over the next 12-18 months."
Leeds is an international City at the core of the Leeds City Region, home to three million people and with an annual economic output of more than £64 billion.