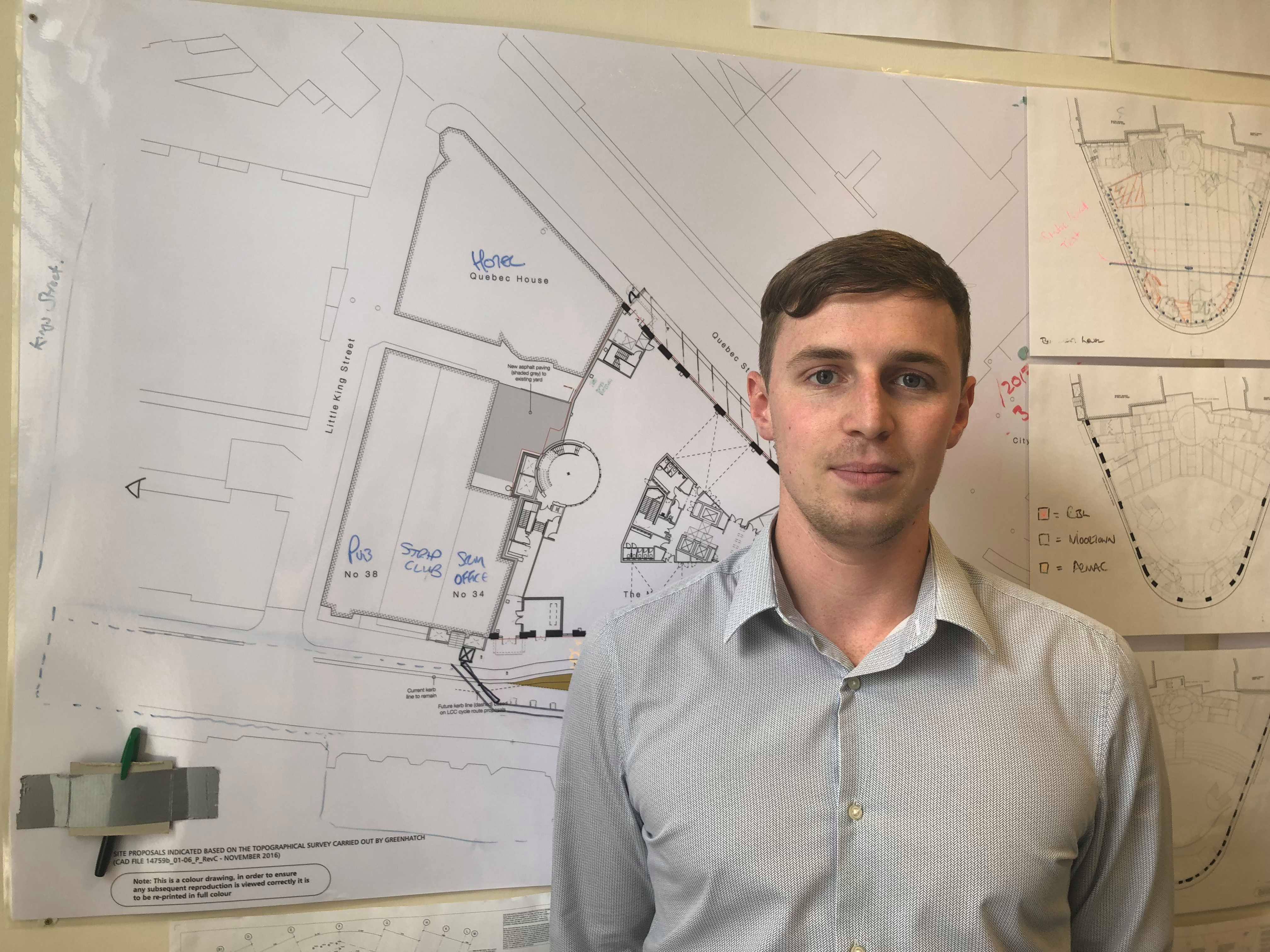 Sir Robert McAlpine (SRM) are appointed as the contractor to deliver the transformation of the Majestic, as a true flagship office building right in the heart of Leeds city centre. A key reason for choosing SRM is their wide social awareness and commitment to community engagement schemes.
As part of SRM's new Community Engagement Plan (CEP), they're dedicated to giving graduate engineers a chance to work on regional projects and help them get their foot on the career ladder.
Eddy Bryan was the first graduate engineer adopted onto the Majestic project, having been hired directly out of university. Here, Eddy will take us through his time working on the project to date and how it is affecting his career trajectory, construction knowledge and personal development.
How long have you wanted to work in construction for?
I'd say I've wanted to work in construction for the majority of my life due to many of my family being involved in the industry.
Do you think SRM's graduate scheme has helped you get a job faster?
Definitely. Whilst I was at university in Leeds, a Sir Robert McAlpine representative came into my class to present a speech. I contacted them regarding a graduate scheme job once I had completed university. Without SRM's community engagement initiatives, opportunities like this would not be accessible and I may still be looking for my first job in construction.
How do you feel about working on The Majestic as your first ever professional venture?
In my opinion, the Majestic as my first project couldn't be any better in terms of what I can learn – gaining further knowledge and experience every single day. It's particularly insightful to see how SRM can deliver this iconic project in the middle of a busy city centre. I feel this project is teaching me considerably more than a simple greenfield site would!
What learnings have you taken from your time working on the Majestic thus far?
I would say the main practical skills I have learnt include numerous surveying activities which involve assisting my senior colleagues in setting out various materials, locations and levels and reviewing work on site to ensure it is as per the specifications.
The main commercial skills I have learnt all involve record keeping. Although my role does not directly involve contract negotiations, the SRM site commercial team rely on the records taken on site regarding work undertaken on each day, for example under/over performing sub-contractors. I don't think I ever appreciated how important it was to continue to take these daily records throughout the process to ensure a smooth and seamless development cycle.
Would you recommend graduate schemes like that of SRM's to graduates like yourself?
The graduate roles within SRM offer so much in regard to personal development and learning. In the eight months that I have been part of SRM I couldn't have wished for anymore help in settling into the company, as part of the site team and company as a whole. The main positive I've found from SRM is the dedication to the graduates in providing the necessary experience opportunities to develop each individual's skill, as everyone has different previous experience.
Want to know more?
If you are thinking about relocating your business to Leeds, get in touch with our agents JLL here to see how we can help you. The contact email is Richard.Thornton@eu.jll.com.
Don't forget to follow us on Twitter and LinkedIn to keep up-to-date with everything surrounding the Majestic, Leeds and business.
About Sir Robert McAlpine
Sir Robert McAlpine is a leading UK building and civil engineering company. They combine outstanding technical expertise with the personal touch that comes with being a family-owned company. Read more about them here.