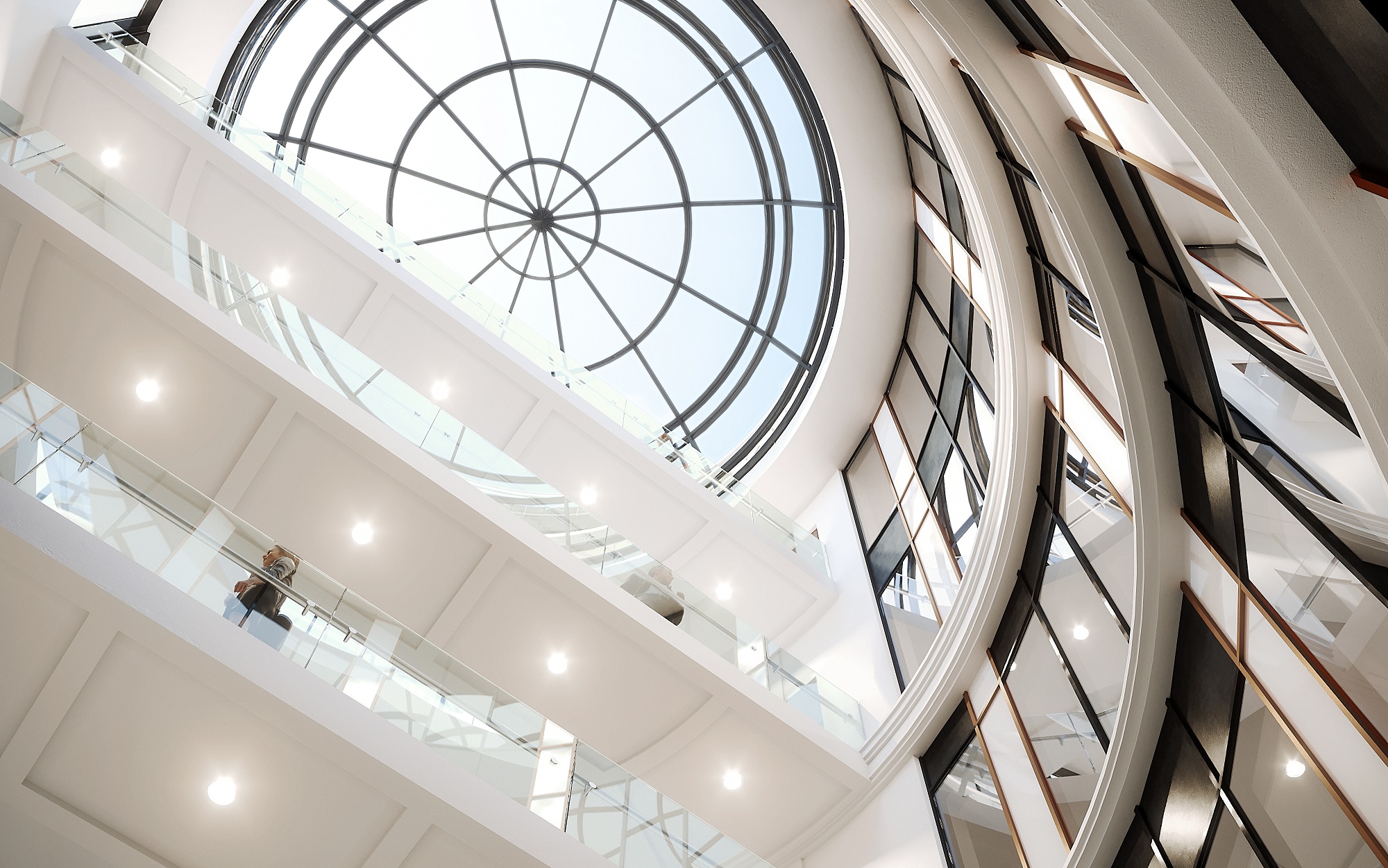 The concept of an office space is forever evolving. What formerly passed for adequate – a desk, a chair and a computer – simply doesn't cut it anymore. As the way we work changes, the workspace's identity has to change in tandem to keep up with the forever-growing digital professional landscape. Research by JLL found that employees increasingly demand higher-quality services and amenities and value more community space. New generations entering the workforce have different expectations of the office environment, particularly the under 35s, challenging the way in which we all work.
Importantly, for the first time on record, Knight Frank has found that office take-up in the City of Leeds passed the 1m sq ft mark last year. This total is more than double the amount registered in 2016 and is 88% ahead of the 10-year annual average for the City. Ironically with the apparent freedom for many to work wherever one wants, afforded by mobile and tech, we are seeing an increasing need for high-quality workspace where people can work together, to collaborate and innovate.
So, with the increasing need for great space, and so much on offer throughout the UK, it's never been more important to have a competitive offering for potential occupiers. In this journal entry we're going to review the importance of a modern office space in Leeds, and discuss what occupiers are searching for on their hunt for the ideal workplace.
A strong digital infrastructure
You do not need to be a digital company to require a strong and reliable broadband connection.
Every single business in the UK requires some form of connection to the online world – whether it's to control your CRM and log client work and information, or to handle your company's social media platforms to improve brand awareness and engage with your customers 24/7.
Great workspaces clearly need to cater for the needs of our new-found, and ever evolving, digital world to ensure they're attracting high quality potential occupiers. The need to consider the following is paramount:
The current digital infrastructure of the city/location
The planned digital investment of the city/location
The diversity of high-level power options available
A 2018 report by Knight Frank on the legal services sector found that the past 12 months has brought a greater adoption of mobile technology and cloud computing within the legal sector and this, in turn, is enabling law firms to introduce and broaden agile and flexible working practices.
In-keeping with legal services, from the same report, multinational law firm Clifford Chance has been expanding the number of legal technology delivery advisers it employs, whilst BLM now employs a team who look at how the firm collects and uses data. This highlights the pace in which companies are expanding their digital offering and their need for an advanced technology infrastructure.
Co-working facilities
Co-working is a concept that has really taken hold of our current way of working and turned it on its head. Instead of a business having its own office space, co-working advocates for a shared working environment, where many businesses of different industry and size can work communally. A report by JLL showed that the total amount of flexible space in the top 20 largest flex markets globally grew by 30% in 2017 – equivalent to around 1 million square metres. Since 2014 the market has doubled, and in leading cities such as London, it now represents around one fifth of take-up.
Co-working offers an incredible amount of flexibility to the occupier and provides support in scaling up or scaling down rapidly. In addition, the customer service within co-working spaces is typically of a different class to that found in most conventional products. This is seeing the emergence of space-as-a-service models, whereby real estate is moving from being a fixed, physical product to a flexible service that supports the occupier.
Co-working's benefits are far-reaching. The system is meant to improve productivity by allowing flexible working from different areas and meeting rooms throughout the space, tackling loneliness in the workplace thanks to its great sense of community and provide new business opportunities due to the close congregation of working professionals. However, as stated, from a business standpoint for the occupier, coworking's promise of flexibility is one of the biggest attractions.
Research by JLL suggests that flex space could represent as much as a third of some corporate portfolios by 2030.
An enticing leisure offering
Did you know that British people work an average of 469 unpaid hours a year? We're part of an 'overtime generation' – to get ahead you must stay late and put the work in! Because of this, it's never been more important for a business to offer attractive, leisure-focused environments for their employees, to make work-life balances a little kinder.
The tech firms led the charge on this, pioneering ball pits and slides for fun, cellular coding rooms for collaboration and creating an environment that encouraged productivity. What could initially be seen as headline-grabbing gimmicks by bright tech firms is trickling down into every type of company – not necessarily to provide rooms full of ball pools but to think about how the workspace can be made more productive and enjoyable! Companies and occupiers are arguably now more focused on creating amenity rich buildings or being close to amenities in order to support the work-life balance of their workforce.
As hinted at above, location is incredibly important to ensure that those hours spent outside of the office are enjoyed. Leeds is quickly gaining a reputation as one of the UK's most dynamic cities, and this in part is due to its leisure offering. Leeds' booming food and drink scene has seen larger growth than the Capital's over the past five years, and the city is currently working towards its very own international cultural festival, harnessing the energy, creativity and ambition of the Leeds bid to be European Capital of Culture in 2023, celebrating the City's wonderful cultural life and enjoying some the best global arts right here in Leeds.
A report by Smith & Williamson in 2017 found that 72% of UK legal managing partners and senior managers think attracting and retaining the right talent is a major challenge over the next two to three years. An enticing leisure offering, both within the workplace but also within the locality, is part of the strategy for addressing this.
The environment
People are also becoming increasingly environmentally conscious, and it's important that modern office spaces recognises this. Making it easier to cycle to work is one part of an environmental strategy – that's why the Majestic has incorporated so much space for bicycles allowing occupiers of the building to utilise the cycle routes directly outside the building, and store their cycles in a secure and accessible environment.
It's incredibly important to offer a more environmentally friendly way to travel both for physical and mental wellbeing. A 2011 study from The Peninsula College of Medicine determined that partaking in physical activity outside was associated with greater feelings of revitalisation, increased energy and positive engagement, together with decreases in tension, confusion, anger and depression.
Back to environmental initiatives, other positive eco-friendly features include the use of greenspaces – architects and interior design specialists are universally beginning to include "living walls" and reams of greenery in office spaces to help bolster employees' health, wellbeing and productivity levels. Not only do plants "cleanse" the air around them, but their presence can add texture and life to a space, which positively impacts occupiers' perception of a building.
There is no one size fits all solution to workspace needs – but increasingly occupiers are thinking about the need for great and resilient digital connectivity, the benefits of co-working and collaboration space, the value of amenities both with and without the office, and the environmental credentials of location and working practices in arriving at a decision as to where they want to be, to encourage a more talented, productive and healthy workforce.
Get in touch
If you're thinking about relocating your business to Leeds, get in touch with our agents Richard.Thornton@eu.jll.com of JLL or Eamon.fox@knightfrank.com of Knight Frank to see how we can help you.
Don't forget to follow us on Twitter and LinkedIn to keep up-to-date with everything surrounding the Majestic, Leeds and business.